Bluetooth Sensors – Compatible Sensors at a glance
Specialized in the communication of sensor data via all common communication standards, the products of the DATAEAGLE 2000 Series offer sensor manufacturers, machine builders and end users maximum flexibility for industrial sensors.
With the DATAEAGLE compact 2730 wireless sensor gateway, users can connect wireless Bluetooth sensors simply and easily. The Bluetooth sensor is coupled once with the gateway in order to parameterise the sensor protocol. The MAC address is then used to uniquely assign the sensor in question. Depending on the interface on the gateway, the sensor values can be displayed via fieldbus to the controller, to a local network or via mobile radio in a cloud portal.
We have already connected several Bluetooth sensors from different manufacturers such as Bosch (BCDS), TE or Hydac. We are happy to check and implement the integration of your cable or Bluetooth sensor at any time.
Bluetooth Sensors from Bosch Connected Devices and Solutions
CISS – Connected Industrial Sensor Solution
The CISS is a multi-sensor device detecting acceleration and vibration as well as environmental conditions. The robust housing makes it perfectly suitable for industrial retrofit applications such as condition monitoring and predictive maintenance.
Industrial sensor from Bosch measures 8 variables: Acceleration, movement/vibration, air-pressure, light, humidity, temperature, magnetic field strength, noise level
Data transmission via Bluetooth Low Energy
Power supply sensor 5V with 24 V DC adapter
IP 54
XDK – Cross Domain Development Kit
XDK110 enables rapid prototyping of sensor based applications for the IoT while offering users the freedom of programming. We recommend it for a start and a PoC.
All-in-one sensor kit:

Acceleration, movement/vibration, air-pressure, light, humidity, temperature, magnetic field strength, noise level

Rechargeable battery, microcontroller
IP 30
Data transmission via Bluetooth Low Energy
SCD – Sense | Connect | Detect
The Sense Connect Detect (SCD) enables companies to get started easily with industry 4.0 such as condition monitoring or anomaly detection. As an easy-to-install solution, the sensor device attaches to almost any machine and component.
SCD has 4 built-in sensors for vibration, shock, temperature, magnetic fields and ambient light intensity
Data transmission via Bluetooth Low Energy
IP 67
Battery-powered (

up to two years battery life, non-rechargeable

)
Integrated analytics:

log raw sensor data from an asset during a specific time or counts operating hours or working cycles
Bluetooth Sensors from Other Brands
TE – Wireless Pressure Transducer
The M5600 series wireless pressure transducer features a high accuracy, 24-bit ADC digital output eliminating hard wiring and provides remote process control and monitoring via Bluetooth® 4.0 wireless communication. The M5600 series wireless pressure transducer from our Microfused line is enclosed in a stainless steel and polycarbonate housing. This series is suitable for measurement of liquid or gas pressure, even for difficult media such as contaminated water, steam, and mildly corrosive fluids.
Pressure Range : 0 – 50 to 15000 psi (±0.25% Accuracy)
Pressure (bar): 3.5, 7, 10, 20, 35, 70, 200, 350, 500, 700, 1000
Pressure (psi): 50, 100, 200, 300, 500, 1000, 3000, 5000, 7000, 10000, 15000
-10°C to +60°C Compensating Temperature (±3°C Temperature Output Accuracy)
Output/Span : 24-bitADC I2C
Weatherproof (IP66/IP67)
Compact and battery powered [CR2050 OR CR2032]
Bluetooth-M12-Box connects all wired sensors
The Bluetooth Low Energy interface for up to 8 analog or digital cable sensors:
Plug & Play: with Wireless Sensor Gateway DATAEAGLE compact 2730
High Protection class: IP67
Integrated antenna
4 or 8 M12 ports
Radio data Transmission range: up to 70 m
Bluetooth Low Energy
Current transformer to measure power consumption
The isolating transducers are mounted directly on the 3 phases of the power cables and deliver the values via the pre-installed Bluetooth hub DATAEAGLE X-treme IO to a central gateway via Bluetooth. This allows the sensors to be mounted flexibly at different locations in the field. The centrally installed gateway receives the data from up to 30 metres.
Product overview of the sensors:
Isolating transformer for 3 phases
Rated current between 5 and 500 A
0-10 V DC output signal
Easy installation
Was the right sensor for you? Discuss your application with us
&

learn more about the possibilities of wireless solutions.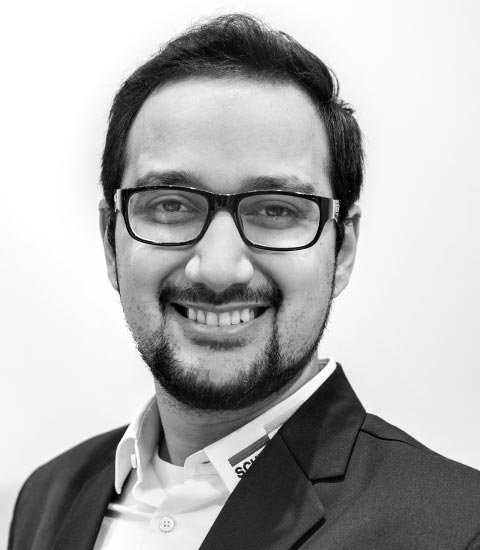 Zubair Khan
Industrial Wireless Expert
If you have any questions about our products, please do not hesitate to contact me.
Schildknecht AG - Datenfunksysteme