Make your sensors wireless – a perfect cable free system, both for sensor manufacturers, machine manufacturers, and end users:
The IO distribution box DATEAGLE X-treme IO 2730 gives you the opportunity to transform cabled sensors into "wireless" sensors. If you need to deploy sensors in spaces that are cramped or difficult to reach, or if you work with mobile machinery, the DATEAGLE X-treme IO 2730 may be the device you need. Together with its counterpart, the DATAEAGLE compact 2730 gateway, it wirelessly integrates sensor measurements into the control unit or into the cloud.
The DATAEAGLE 2730 gateway is designed to be the optimal interface between sensors and control unit. You can choose from a variety of interfaces: Profibus DP, Profinet, Ethernet IP, OPC/UA, Modbus TCP, POWERLINK, sercos, CANopen, EtherCAT and Devicenet. Further protocols such as IO-Link are currently being developed.
Make your sensor wireless!
DATAEAGLE X-treme IO 2730
Bluetooth Low Energy Interface for sensors
Plug & Play: with Wireless Sensor Gateway DATAEAGLE compact 2730
High Protection class: IP67
Integrated antenna
4 or 8 M12 ports
Radio data Transmission range: up to 70 m
Bluetooth Low Energy
DATAEAGLE Compact 2730
Via Bluetooth Low Energy from sensors to control units
Plug & Play: perfect connection to plc using the DATAEAGLE compact 2730
Radio data Trtnsmission range: up to 70 m
Space-saving:

IP20 for direct installation in the control cabinet.

Interface: Ethernet-based fieldbus protocols.

Wireless Sensor Network: Simultaneous data exchange for up to eight sensors per gateway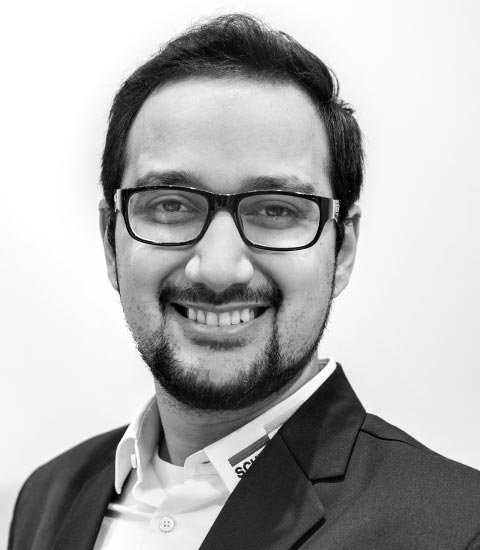 Zubair Khan
Industrial Wireless Expert
If you have any questions about our products, please do not hesitate to contact me.
Schildknecht AG - Datenfunksysteme