IoT Ready-to-use with DATAEAGLE
Challenges, especially those posed by complexity, should not endanger the IoT project and that is why we are already one step ahead to ensure success for you. Especially the industrial sector is characterized by very heterogeneous plants, systems and communication protocols and needs solutions for both vertical and horizontal networking.
To enable rapid implementation, Schildknecht AG follows the IoT-ready-to-use approach: ready-to-use systems for IoT or IIoT projects, consisting of sensors, gateways and industrial interface and dashboard. We support you from the idea to the implementation and operation of a globally successful IoT solution.
Defined business model and benefits: There are different business models and the benefits vary from customer to customer, because many of them are similar in essence, such as: condition monitoring of machines and plants with the help of sensors (Machine Condition Monitoring) or the further development of a system for predictive maintenance ( Remote Predictive Maintenace). Mostly sensors are used, which often determine the following values: Temperature, vibrations and noise level.
Ready to start without turning it into a big project: Additional services that you want to offer in the future can be integrated into the IoT platform at any time later.
Experienced partner: We have put together our IoT-Ready-to-use systems from our many years of experience by consolidating the applications, benefits and challenges from over 500 Prof of Concepts with our customers. We also use partners with similar expertise such as Bosch (BCDS).
Standard solution: Proven standard technologies minimize integration risks, accelerate the project and create added value that is ultimately paid for by the end customer.
Our IoT Ready-to-use systems for many applications
DATAEAGLE Condition Monitoring System
Machine Condition Monitoring offers many industries considerable possibilities for production and quality assurance. More and more sensors are collecting critical operating data that can be used to keep machines and systems healthy for longer. A prerequisite, however, is that the sensor data reach the point where a critical assessment can be made quickly and reliably and appropriate measures can be initiated. Our condition monitoring system consists of sensors, gateways and industrial interface and optionally a dashboard.
These applications can be mapped with the DATAEAGLE Condition Monitoring System: Environmental data such as temperature, acceleration and motion sensors to monitor vibration, and other wireless (Bluetooth Low Energy) sensors such as magnetometer, light and microphone can be used.
DATAEAGLE Energy Monitoring System
Energy monitoring offers many industries the opportunity to work and produce more efficiently and cost-effectively. Sensors and sensor networks, in some cases also wireless sensors, play a major role in this. However, the prerequisite is that the sensors can be installed quickly and easily on new and also on existing plants or machines. Our condition monitoring system consists of sensors, gateways and industrial interfaces and dashboards.
The DATAEAGLE Energy Monitoring System gives you the opportunity to quickly and easily get an overview of the power requirements of your assets such as motors, machines or entire plants or production areas.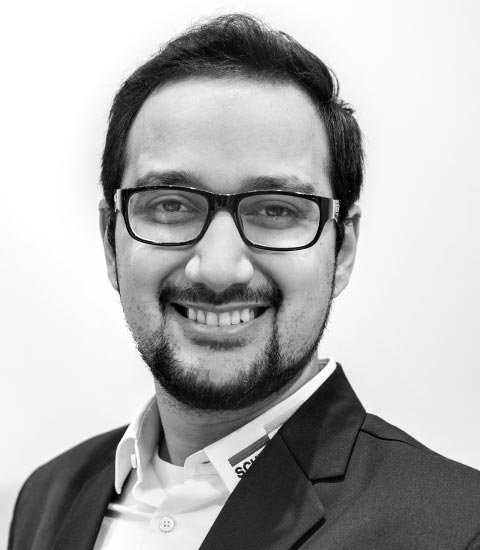 Zubair Khan
Industrial Wireless Expert
If you have any questions about our products, please do not hesitate to contact me.
Schildknecht AG - Datenfunksysteme