Measuring power demand with DATAEAGLE
Energy Monitoring: Our IoT-Ready-to-use approach
Condition monitoring of machines and plants, offers many industries considerable opportunities for production and quality assurance. More and more sensors are collecting critical operating data that can be used to keep machines and systems healthy for longer. The prerequisite, however, is that the sensor data quickly and reliably reach the point where a critical evaluation can be made and appropriate measures can be initiated.
In order to enable customers to implement this quickly, Schildknecht AG is pursuing the IoT-ready-to-use approach: a ready-to-use system for condition monitoring, such as power consumption, consisting of sensors, gateways and edge interface or cloud dashboard. The Energy Monitoring System is the further development of the Condition Monitoring System with Multisensor and is suitable for new and existing installations. It enables the monitoring of the power demand of machines, production areas, offices and also transformer stations.
The IoT ready-to-use systems such as the Energy Monitoring System are available with 3 different interface options:
The cloud with a dashboard
Integration into the PLC via a fieldbus interface
Local IT integration with a dashboard
REMOTE MONITORING OF TRANSFORMER STATIONS
The economic benefits for Energy Monitoring (Sensor as a Service) exemplified by an infrastructure business model:
Innumerable decentralized transformer stations (substations) are used to convert the usual nitrate voltage in the distribution network into the low voltage prescribed for local networks and end consumers. According to DIN EN 50160, a certain voltage quality must be maintained, even with considerable load fluctuations! This requires continuous condition monitoring of voltage and current and other measured variables (temperature of the transformer) in the individual stations as well as forwarding of the measured values to a central office of the energy supplier. Until now, this was a costly procedure!
Here, too, digitization enables a fundamental turnaround to greater cost-effectiveness, provided that IT-enabled sensors are used by the utilities. For the transport of the sensor data to the Internet, evaluation of the data in a cloud, regular information of the utility – as already explained in example 1l – the proven DATA EAGLE 7000 complete package of gateways, managed connectivity and cloud service and – if desired – its operation by Schildknecht AG or its representative – is available.
In view of the hundreds of thousands of local transformer stations in Germany, for example, this Energy Monitoring System (Sensor-as-a-Service) application offers an immensely high savings potential!
Sensor: current transformer
The isolating transducers are mounted directly on the 3 phases of the power cables and deliver the values via the pre-installed Bluetooth hub DATAEAGLE X-treme IO to a central gateway via Bluetooth. This allows the sensors to be mounted flexibly at different locations in the field. The centrally installed gateway receives the data from up to 30 metres.
Product overview of the sensors:
Isolating transformer for 3 phases
Rated current between 5 and 500 A
0-10 V DC output signal
Easy installation
More flexibility with Bluetooth hub and central gateway
Product overview of the I/O Bluetooth hub DATAEGLE X-treme IO:
Bluetooth hub for 4 sensors (0-10V)
Power supply M12
Data communication BLE to central gateway
Decentralised installation of sensors possible
Robust design IP 67
Worldwide connectivity with the IoT Gateway DATAEAGLE 2730
Product overview of the IoT Gateway DATAEAGLE 2730:
Cloud: worldwide 3G with integrated eSIM and roaming
Fieldbus: Modbus TCP, Profibus, Profinet, CANopen, sercos, ETHERNET/IP, EtherCAT, POWERLINK
Local Dashboard: with Node-RED Dashboard, PRTG Monitor and Ethernet interface
DIN-rail mounting for control cabinets with external antenna for Bluetooth hub
Alarm functionality and data analytics possible
Connectivity to up to 8 DATAEAGLE X-treme IOs possible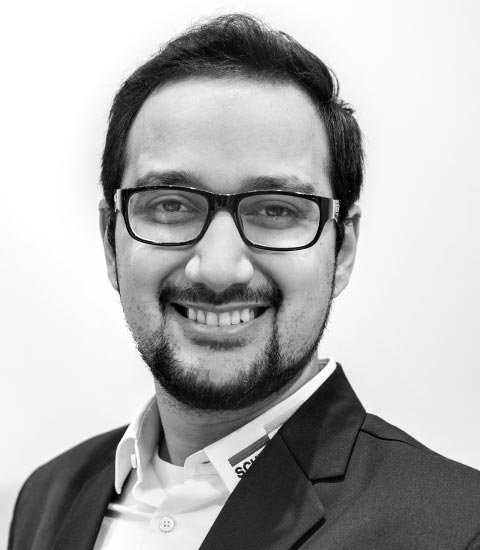 Zubair Khan
Industrial Wireless Expert
If you have any questions about our products, please do not hesitate to contact me.
Schildknecht AG - Datenfunksysteme