Wireless sensor network: DATAEAGLE is the perfect solution for integrating cable and Bluetooth low energy sensors into the controller or cloud.
For sensor manufacturers
Using the Wireless Sensor Gateway DATAEAGLE compact 2730, sensor manufacturers obtain the option to very easily integrate their wireless Bluetooth sensors into user control units. For this purpose, manufacturers can deliver their sensors together with a DATAEAGLE compact 2730 gateway as a package to machine or plant manufacturers, putting them in the position to offer their customers an industrial-suited all-round solution of sensor and radio technology.
A further benefit for sensor manufacturers is generated by the DATAEAGLE X-treme IO 2730 radio distribution box. It provides the opportunity to make wired sensors "wireless" sensors, which is an advantage at constricted installation sites or installation sites difficult to access. Wireless integration of sensor values into the control unit or cloud is done via the counterpart to the radio distribution box near the control unit, the Wireless Sensor Gateway DATAEAGLE compact 2730 already mentioned above.
For machine manufacturers
For machine manufacturers, the Wireless Sensor Gateway DATAEAGLE compact 2730 provides great benefit as soon as wireless sensors included in the scope of delivery of the machine are intended to be directly integrated into a control unit. The variety of different Ethernet-based fieldbus interfaces of the DATAEAGLE compact 2730 such as Profinet, Ethercat, Powerlink amongst others enable machine and plant manufacturers easy access to existing control units. The end customer has then immediately available all relevant sensor values in the environment of his control unit together with the remaining data, similar to the Plug & Play principle. As an option, this information can of course also be made available in a cloud.
For end customers
Producing companies are frequently required to modernize their machinery and for this purpose to refit with various sensors. For such Retrofit projects, the Wireless Sensor Gateway DATAEAGLE compact 2730 provides the possibility to integrate Bluetooth Low Energy sensors into the control unit and to comfortably process in the cloud. Even wireless sensors with analog or digital signal outputs may be integrated in the same manner: For this purpose, they are made "wireless" prior to using the IO radio distribution box DATAEAGLE X-treme IO 2730, additionally facilitating considerably sensor installation in areas difficult to access.
We are pleased to support you in integrating the sensor together with the gateway DATAEAGLE compact 2730 into the control unit or cloud.
Connecting Bluetooth sensors
DATAEAGLE compact 2730 provides the user the opportunity to very easily integrate wireless Bluetooth Low Energy sensors in control units. The Bluetooth sensor is once coupled to the gateway for parameterizing the sensor protocol. After that, an unambiguous assignment to the respective sensor via the MAC address is possible, which delivers sensor values to the control unit via a fieldbus protocol then.
Cloud Level – Cloud access to networked systems – Wireless Sensors
As the integration of ICT into machinery and equipment grows steadily stronger, new and interesting business opportunities emerge. Sensors and machines in any corner of the world can transmit data and measurements to the cloud. You only need Internet access to do continuous monitoring, predictive maintenance and much more. If you want to harvest these new opportunities, you needpowerful, dependable and versatile connectivity all the way from sensor to cloud. Schildknecht offers you this connectivity via its DATAEAGLE 2730 Cloud series, a range of globally addressable gateways. And operating with universal eSIM cards validated by countless providers, they even give you global connectivity at a manageable cost.
Making everything work on the control level – Wireless Sensors
Sensors or machines send measurement data to the control unit or network for further use. If you want to utilize the advantages of wireless connectivity on the control level, you need a radio link compatible with the communication technology used by the control unit, in most cases a fieldbus. The DATAEAGLE Compact 2730 modules are made for this.
Transmitting data at field level – Wireless Sensors
Schildknecht AG has developed the DATAEAGLE X-treme IO 2730 series for wireless horizontal field level data transmission. These devices enable to collect sensor and actuator data, machine data etc. at field level. They primarily handle data coming from simple point-to-point connections and stand-alone IO systems, well known and in widespread use in many production facilities. However, they can be expanded to handle large Mesh networks with hundreds of sensors.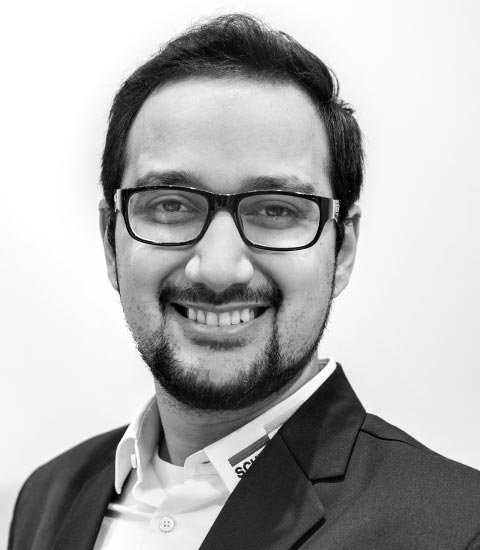 Zubair Khan
Industrial Wireless Expert
If you have any questions about our products, please do not hesitate to contact me.
Schildknecht AG - Datenfunksysteme