Bluetooth Beacons revolutionize Track
&

Trace applications
Up until now Bluetooth Beacons have been used in consumer settings, like mobile marketing, retail, and museums, to trigger location-based information on nearby portable devices. Schildknecht is now adapting the Beacon for industry, giving it a range of new features to cope with this new role:
Power supply via 24V or battery, protection class IP65, and optional sensor connection via M8 make the DATAEAGLE Beacon well suited for industrial use. It has a range of up to 30 meters and a battery life of up to 1 year. All this opens a variety of new application areas, where these small, but sturdy and versatile devices can make an important difference on the road to Industry 4.0.
The DATAEAGLE Beacon allows objects to communicate with each other and it can be used to localize and identify machinery, spare parts or tools, to optimize production processes, or to store data. The DATAEAGLE Beacon can communicate with any device, as long as it is equipped with a Bluetooth interface. And communicating with e.g. the DATAEAGLE 2730 gateway it can transmit data to a control system or to the cloud.
Bluetooth beacons play an important role in Industry 4.0 as they allow objects to communicate with each other. Thus, industrial production processes are improved by the connectivity and identification of its workpieces, machines and persons. When used in combination with a sensor gateway, such as DATAEAGLE 2730, the DATAEAGLE Beacon will transmit selected data to a control system or to the Cloud.
DATAEAGLE Bluetooth BEACON
Bluetooth Low Energy (4.2 & 5)
Up to 50 m range
Optional: M8-Plug for Sensors
Up to 1 Jahr battery
Integrated Storage of 4MB
Wireless Sensor Network: can be combined with DATAEAGLE compact 2730 and DATAEAGLE X-treme IO 2730
Bluetooth Beacon – Use Case 1 – Positioning
QR-Codes and RFID Tags are merely passive tags. Bluetooth Beacons can be much more. The most important advantage of Bluetooth Beacons is their ability to function as active tags, e.g. to transmit positioning data at specific intervals. This can help forklift trucks or operators find the products they are looking for and to identify every item precisely.
Another use case is the optimization of Automated Guided Vehicles (AGVs). Equipped with a Bluetooth Beacon such a vehicle can identify other AGVs at intersections and thus avoid unnecessary stops and downtime. Also, automatic gates can detect the AGVs in due time and avoid unwanted closing. To transmit signals from Beacons to a control unit we have equipped the DATAEAGLE 2730 Gateway, with various fieldbus interfaces, such as Profinet.
Bluetooth Beacon – Use Case 2 – Tool Tracking & Digital Routing Slips
Due to its memory function the DATAEAGLE Beacon is able to store measurement data, product information, and other important process information. When it comes to processing machines – e.g. tooling machines – drills or other tools are often measured at measuring stations. Connected via the DATAEAGLE 2730 Gateway, a computer can store these measurement data on the DATAEAGLE Beacon. Beacons can be mounted on the tool or on the tool cart. Now the system can detect the correct tools at the machine, and read out the dimensions of e.g. the drill. This improves production quality, and perhaps more importantly, it saves precious time. After processing, the tooling machine can store the processing time spent on the drill on the Beacon. Used in this way, the Beacon can replace Routing Slips.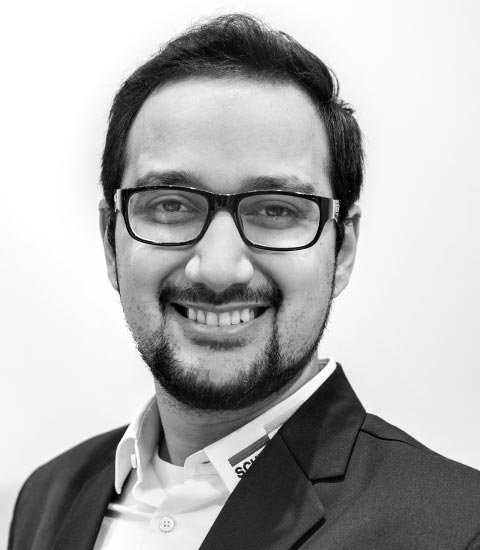 Zubair Khan
Industrial Wireless Expert
If you have any questions about our products, please do not hesitate to contact me.
Schildknecht AG - Datenfunksysteme