Wireless PROFIsafe – DATAEAGLE 3000/4000
Our product line DATAEAGLE 3732 (PROFIBUS) and DATAEAGLE 4732 (PROFINET) – Wireless PROFIsafe – was specially developed for the wireless transmission of PROFIsafe via Bluetooth. The use of our patented filter technology guarantees an optimal, reliable radio connection, especially for Wireless PROFIsafe applications. See for yourself!
Wireless PROFIsafe – In practice
Sensor and application data are usually transmitted from machines at the field level to a controller for use. If moving parts, e.g. in sewage treatment plants or cranes, are to be controlled wirelessly, radio connections are used which are aligned with the respective field bus: The DATAEAGLE 3000 and 4000 radio systems are developed for the PROFIBUS and PROFINET fieldbus protocols with PROFIsafe support. Due to the patented data pre-processing in the devices, a particularly high system availability is achieved.
If you would like in-depth information on the use of wireless technologies for safety applications, you will find it in the linked webinar. There, our experts talk about how safe and stable data communication can be implemented via radio, taking into account the safety regulations.
Wireless PROFIsafe – Product Features
In order to make installation as easy as possible for our customers, we focus on Plug&Play as well as reliable radio communication. Different radio technologies are used for transmission, mostly Bluetooth 5 (2.4 GHz) or 869 / 915 MHz in the unlicensed band. There are two different housing variants: compact (IP 20) for control cabinet mounting and X-treme (IP65) for use in direct industrial environments or outdoors.
– The DATAEAGLE 3000 series is suitable for the transmission of PROFIsafe via PROFIBUS.
– The DATAEAGLE 4000 series is suitable for the transmission of PROFIsafe via PROFINET, CIPsafety via EtherNet/IP and openSAFTEY via UDP.
Wireless PROFIsafe – Your connection with a future
Give your wireless solution that little bit extra: with the Schildknecht commissioning guarantee, you receive professional, powerful and convincing support during installation. DATAEAGLE radio data systems stand for a long service life, freedom from maintenance and guarantee a stable connection and permanent availability of machines and systems without downtimes.
PROFIsafe – same protocol with radio and cable
Whether for a crane control system, the emergency stop transmission of a production machine or other safety-relevant communication: PROFIsafe has established itself as a standard for functionally safe communication and has been an international standard since 2007 under the designation IEC 61784-3-3. The safety-related protocol is used to transmit data between a safety controller (F-PLC or F-Host) and field devices (F-Devices). While the controller and device are usually safety-related components and must be certified accordingly, PROFIsafe, according to the system description, has no effect on the standard bus protocols used: whether with Industrial Ethernet (PROFINET IO), via RS485 (PROFIBUS-DP), via backplanes or wireless – the method used for data transmission has no influence on the safety rating. The transmission channels are merely so-called "black channels", of which the actual PROFIsafe application is completely independent. Accordingly, the PROFIsafe system description also states: "Wireless transmission is permissible as long as sufficient availability (no false alarms) and IT security are guaranteed.
Secure data transmission by radio: the black channel principle in detail
This means, then, that the use of wireless technologies is also provided for and possible qua definition, just like other radio technologies. Both the safety controller and the remote IO system – for example a safety switch – contain the safety protocol. The interface between them is merely the channel for transmitting the safety information. Accordingly, no safety certification is required for the wireless device and it is treated like other infrastructure components, such as switches or cables. This saves the need to recalculate or recheck the security level (SISTEMA) when using a black channel solution.
At a glance: Safety via radio with PROFIsafe and DATAEAGLE
PROFIsafe can be implemented with radio solutions – with the black channel principle, data transmission has no influence on the safety rating.
When selecting a suitable radio solution, the lower data rate and fluctuating latency of radio compared to cable should be taken into account.
Radio transmissions with pre-processed data packets, such as DATAEAGLE from Schildknecht, are ideally suited. This method reduces the amount of data and increases stability.
Safety-critical applications can be realised with PROFIsafe and radio data transmission – and have proven themselves in industrial environments, in some cases over many years of operation and without interruption due to bus errors.
STB Steuerungstechnik Beck
"The lift was approved for operation by TÜV without any rework shortly before the Four Hills Tournament. "After the first 2 years, we found that the availability of the lift was almost 100%."
"The cable car at Montmartre in Paris, has been running flawlessly since 2006 thanks to our safety radio technology"
Steffen Boschert, Owner SWL
"We were very satisfied with the quality and reliability of the radio systems used and especially the support from Schildknecht. With the radio modules used, the required safety standards according to DIN 56950-1 1 could be achieved."
Schildknecht AG has been developing radio data transmission systems for industrial use for over 40 years, using state-of-the-art technology such as the current Bluetooth 5. The core competence is secure and stable radio transmissions and are used in crane technology, water management, stage technology, in lifting equipment as well as lift and cable car systems.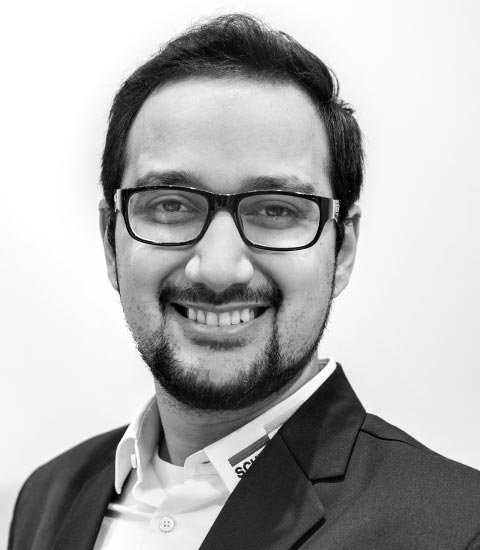 Zubair Khan
Industrial Wireless Expert
If you have any questions about our products, please do not hesitate to contact me.
Schildknecht AG - Datenfunksysteme