DATAEAGLE Condition Monitoring System Cloud
The DATAEAGLE Condition Monitoring System is optimally suited for the monitoring of motors and machines in the industry. The aim is to provide remote condition monitoring that is easy and fast  to implement in the sense of Industry 4.0.
The system consists of a small multi-sensor (CISS) suitable for harsh industrial environments, a global IoT-Gateway (DATAEAGLE 2730) with integrated  eSIM-card and a cloud dashboard (DATAEAGLE portal). The robust CISS sensor from Bosch can  be mounted directly onto the engine or the machine and transmits the data via Bluetooth Low Energy to the central IoT Gateway DATAEAGLE 2730.There, the values from up to 8 sensors can be received simultaneously. These are then pre-processed and transferred to a cloud portal at intervals.
The data i s then stored in the DATAEAGLE Portal in order to display the sensor values and analyse long-term effects. The transmission interval of the sensor values to the cloud depends on the operating mode and is optionally also alarm-controlled.
Condition Monitoring System: Applications
The DATAEAGLE Condition Monitoring System Cloud can be used as original equipment or as a retrofit solution for existing plants. Thereby the following inertial and environmental sensors are used: acceleration, gyroscope, magnetometer, digital light, pressure, microphone, temperature and humidity. The values are transferred periodically into the cloud. Optionally, alarms can be set for individual sensors.
The DATAEAGLE Condition Monitoring System is also available with local fieldbus interface instead of cloud.
• Overview Condition Monitoring Systems
• More information in this blog article
Condition Monitoring – First Steps and Installation
First steps for introducing condition monitoring
A good way to get started is to focus on the weak spots of your factory. Ask yourself these questions:
• What are the weakest parts of my production setup?
• Where do breakdowns occur most frequently?
• Where do failures have financial consequences?
• Where do breakdowns have widespread effects, e.g. because several production lines are blocked as a result?

Very likely you'll be able to point out specific pumps, motors, or other equipment that constitute critical weaknesses in need of constant monitoring. This is the place to start. The next step is to determine what you want to measure. The most common values are temperature, vibrations and noise level. However, the IoT Ready-To-Use system enables you to measure much more if necessary. Its CISS multi-sensor for harsh environments contains 8 sensors:
• accelerometer
• gyroscope
• magnetometer
• digital light sensor
• pressure sensor
• microphone
• thermometer
• humidity sensor
This versatility allows you to experiment and to adjust the setup along the way until you have found the best parameters to monitor on your machines and equipment. This adjustment can be done on our cloud portal, otherwise known as DATAEAGLE Portal. You can even install multiple sensors to your machine at different points and connect them to the gateway, DATAEAGLE 2730, to get a better and accurate understanding of the health of your machine.
Start with monitoring one application
To get started, it is important to focus on one application or machine. Don't think too much about integration or turning this into a multi-functional system. Save that for later. The initial phase is all about focusing and building a strong case around one single application. This also lets you control costs and installation time.
From this point on you can adjust and expand your condition monitoring solution easily, as the Schildknecht wireless concept with decentralized sensors and central gateways gives you the flexibility to change your setup along the way.
For instance, you might have a number of older machines in your factory, with all the problems that go with them in regards to repair and spare parts. It would make good sense to monitor them closely to ensure maximum uptime and to extend their life span. A non-invasive system like IoT Ready-To-Use ensures easy retrofitting with the least possible installation efforts and disruption to production.
Or you can work towards the convergence of your IT and OT infrastructures. As IT and OT move closer together you might want to get a simultaneous overview of both worlds. For this, Schildknecht is partnering with PAESSLER, and data from the Schildknecht system can be easily integrated into the PAESSLER PRTG Monitor.
Install the condition monitoring system
Getting a condition monitoring system up and running doesn't have to be complicated and time consuming. We have designed our system explicitly with ease-of-use and flexibility in mind.
For instance, no integration is needed, and its multi-sensor has magnets for easy installation. Also, to avoid the hassle of installing extra wiring, the system's gateway uses radio communication to send monitoring data to a cloud portal.
You can mount the multi-sensor directly on the engine or machine. It transmits measurement data via Bluetooth Low Energy to the DATAEAGLE 2730 IoT gateway, which is able to receive data from up to 8 sensors simultaneously. The gateway then pre-processes the data and transfers it via wireless 3G/4G to the cloud, where it is stored and ready to be visualized and analysed via the DATAEAGLE Portal.
The DATAEAGLE Cloud Portal provides a ready-to-use dashboard to get an overview of the data coming in from the sensors. At this point you can analyse the data, with support by Schildknecht's consultants as needed (free of charge). Depending on the use case, you can set different transmission intervals of the sensor values to the cloud, or you can set alarms for individual sensors.
Video: Installation DATAEAGLE Condition Monitoring System
Webinar: Implementing IoT projects and condition monitoring quickly and easily
DATAEAGLE Condition Monitoring System Cloud: IoT ready-to-use.
Operation mode selectable depending on the transmission interval:
Ready-to-use condition monitoring system, for motors, pumps, machines etc. Operational Worldwide with integrated eSIM card and 3G-radio
Can be flexibly switched off and reactivated at any time
Visualisation of the sensor values in the DATAEAGLE portal
Historical data to monitor the long-term condition of the systems
Annual billing, no automatic renewal
Order DATAEAGLE CMS Cloud today!
Just send us a request and mention the fieldbus interface
Condition Monitoring System Item no.: 1.590€
Cloud Monitoring Package 1 Item no. 11721: 45 €/month
Cloud Monitoring Package Item no.11722: 30 €/month
Cloud Monitoring Package 3 Item no. 11723: 15 €/month
Cloud Monitoring Package 4 Item no. 11724: 20 €/month
The DATAEAGLE CMS includes: CISS-Sensor worth power supply, IoT Gateway DATAEAGLE 2730, antennas and cables and a user account for DATAGLE Portal. Pricing: 05/2020 (offer valid for Europe, net prices excluding VAT, subject to change without notice)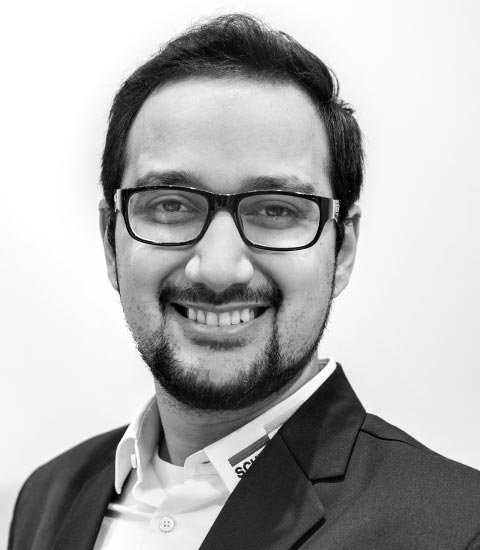 Zubair Khan
Industrial Wireless Expert
If you have any questions about our products, please do not hesitate to contact me.
Schildknecht AG - Datenfunksysteme