DATAEAGLE Condition Monitoring System PRTG Network Monitor
The DATAEAGLE Condition Monitoring System is optimally suited for the monitoring of motors and machines in the industry. The aim is to provide remote condition monitoring that is easy and fast  to implement in the sense of Industry 4.0. As an Uptime Alliance Partner, Schildknecht AG's Condition Monitoring System is the optimal complement for the integration of existing plants.
The system consists of a small multi-sensor (CISS) suitable for harsh industrial environments, a global IoT-Gateway (DATAEAGLE 2730) with Modbus TCP interface. The system is designed for integration into PAESSLER's PRTG Network Monitor to centrally monitor OT data, e.g. from machines.
The robust CISS sensor can  be mounted directly onto the engine or the machine and transmits the data via Bluetooth Low Energy to the central IoT Gateway DATAEAGLE 2730.There, the values from up to 8 sensors can be received simultaneously. The values are pre-processed and can be retrieved via the local network in the PRTG Network Monitor. The flexibly configurable dashboard shows the sensor and machine values and also offers further processing or e.g. alarming.
Condition Monitoring PRTG Network Monitor: Applications
The DATAEAGLE CMS PRTG Network Monitor is suitable for any retrofit solution for existing plants. Thereby the following inertial and environmental sensors are used: acceleration, gyroscope, magnetometer, digital light, pressure, microphone, temperature and humidity. The values are displayed in a local dashboard and can thus be retrieved via the local network. Optional alarms can be set for individual sensors.
The DATAEAGLE Condition Monitoring System is also available with mor different interfaces: local dashbord,  fieldbus interface or a remotely accessible Cloud-Dashboard. Find more information here.
• Overview Condition Monitoring Systems
• More information in this blog article
Video: Installation DATAEAGLE Condition Monitoring System
Webinar: Implementing IoT projects and condition monitoring quickly and easily
DATAEAGLE Condition Monitoring PRTG Network Monitor
IoT Ready-to-use bridging the gap between OT and IT
Ready-to-use system for condition monitoring e.g. of motors, pumps and machines
Industrial gateway with Modbus TCP interface
Visualization of the sensor values in the PRTG Network Monitor
Historical data to monitor the condition of the systems in the long term
flexible and scalable licensing
Get your offer today or order directly
Condition Monitoring complete system Order no. 11720: 1.590€
The overall system contains: CISS sensor with power supply, IoT Gateway DATAEAGLE 2730, as well as antennas and cables including the PRTG Network Monitor demo license. Prices: last update 05/2020 (non-binding offer, valid for Europe, net plus VAT, excl. shipping, subject to change)
PAESSLER believes monitoring plays a vital part in reducing humankind's consumption of resources. Monitoring data helps its customers save resources, from optimizing their IT, OT and IoT infrastructures to reducing energy consumption or emissions – for our future and our environment. That is why Paessler offers monitoring solutions for businesses across all industries and all sizes, from SMB to large enterprises. Paessler works with renowned partners, and together they tackle the monitoring challenges of an ever-changing world.
Since 1997, when Paessler first introduced PRTG Network Monitor, it has combined its in-depth monitoring knowledge with an innovative spirit. Paessler knows the challenges of complex IT, OT and IoT infrastructures and networks. Paessler products empower its customers to monitor everything, and thus help them optimize their resources.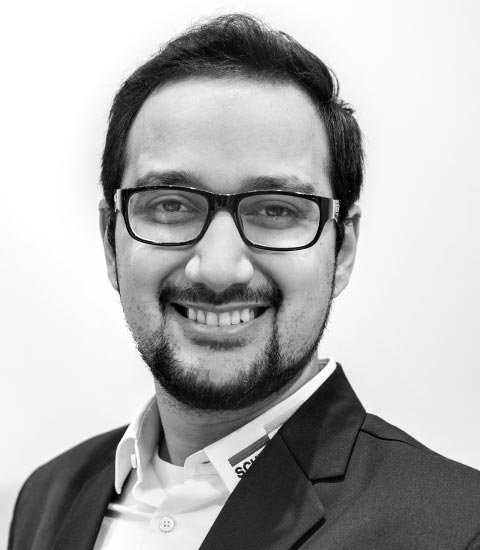 Zubair Khan
Industrial Wireless Expert
If you have any questions about our products, please do not hesitate to contact me.
Schildknecht AG - Datenfunksysteme