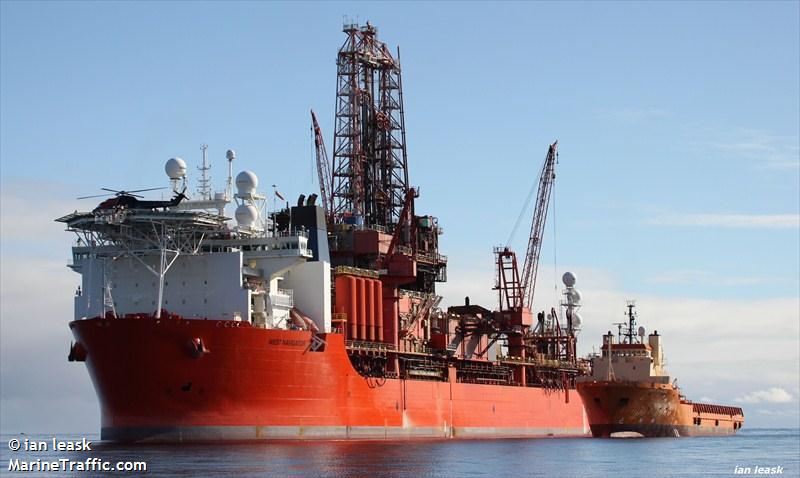 Application
Seadrill Limited is a Norwegian company dealing with the oil production industry. Operated are: Jack-up drilling rigs, semi-submersibles and drilling vessels for sinking drillings for crude oil and natural gas. The 253m long drilling ship West Navigator relies on a DATAEAGLE radio link to the driller. The driller is the fully automatic machine unit, screwing the drilling rod weighing up to 750 tons together.
The Ship West Navigator
Challenges
The challenge consisted in establishing a highly reliable radio link for replacing the very susceptible cable connection to the driller. One-day failure causes up to 600,000.00 euro costs. Requirements to technical solutions on an oil drilling ship are safety, ATEX and ship approval.
Solution
On the ship, a wireless PROFIBUS and PROFIsafe radio link to the driller is built up. As radio technology, Bluetooth is applied since thanks to frequency hopping it enables extremely stable and robust communication. Due to the very sophisticated application, the DATAEAGLE 3000 was installed in an explosion-proofed housing.
Result
In a two-years test, DATAEAGLE has successfully asserted itself against all market players and so saves the operator downtimes and costs amounting to millions.
https://www.schildknechtag.com/wp-content/uploads/2014/05/wn1.jpg
478
800
Elena Eberhardt
https://www.schildknecht.ag/wp-content/uploads/2013/12/Schildknecht-logo-300x122.png
Elena Eberhardt
2016-08-25 15:05:57
2022-01-10 15:36:57
Radio Data Transmission in Crude Oil Production on a Drillship